Save The Date! Lulu Laboratorium hosts the one and only Domingo Zapata at their flagship Wynwood gallery in the heart of Miami's most prestigious art district for Art Basel | Miami 2015.
When: Wednesday / Decemer 2, 2015 / Party begins @ 10:00 PM
Where: Lulu Laboratorium / 173 NW 23rd St. / Miami, FL 33127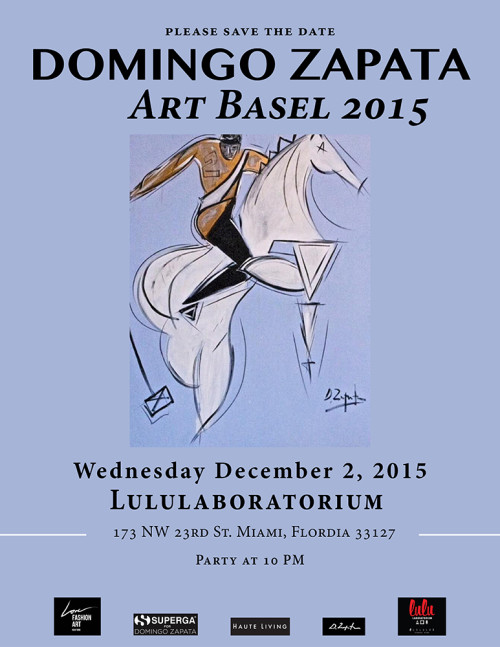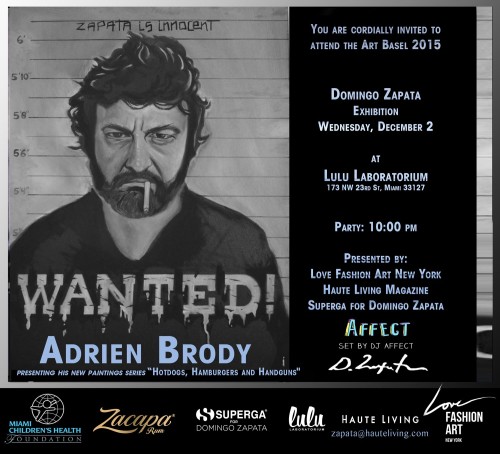 ---
About Domingo Zapata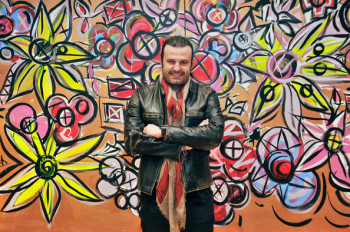 Domingo Zapata is a Spanish-American artist born in Palma de Mallorca, Spain. Currently, Zapata maintains studios in his Gramercy Park townhouse in New York City, the Design District in Miami, and Hollywood. In these private ateliers he produces Neo-Expressionist paintings as well as sculpture. He paints in both oil and acrylic, often incorporating mixed-media, collage and graffiti.
For over 20 years Zapata has built a body of work, which varies significantly in motif, though consistently explores themes of sexuality, opulence, and vitality in his signature style. In this distinctive hand, Zapata layers fantasy and reality, luring the viewer into his potent, cosmically beautiful world. Known for his signature "Polo" series, which first gained him critical acclaim, more recent work focuses on themes including his native Spanish culture, American Pop icons, and the state of the contemporary practice. He often draws on his experiences as a songwriter (Zapata co-wrote lyrics for Michael Jackson and Jon Secada), and exposes his deeply poetic imagination by incorporating text and visual cues into many of his works. In this way, his images coax the viewer into his realm where fact and fiction persist simultaneously, fortifying each other's beauty, depth, and meaning.
Named an "artist to watch," in 2011 by the prestigious Whitewall Magazine, Zapata has quickly fulfilled this prophesy. Since, his work has lauded praise from international press such as The New York Times (cover story, Thursday Styles April 25, 2013), Esquire Spain, Vanity Fair Italia, and The New York Observer. Recently, The New York Magazine deemed him, "in a league of his own," while the New York Post proclaimed Zapata to be the "new Andy Warhol, with starlets begging for a sitting."
The future continues to promise illustrious milestones for Zapata. This year the artist is preparing a poignant, commemorative mural for the lobby of Freedom Tower in Manhattan. The piece will be unveiled as part of the building's opening ceremony and remain on permanent display. Additional commissions include a panel for the newly restored Colosseum in Rome as well as the lobby of the landmark Plaza Hotel in New York.
Official Website
---
Partners & Sponsors
---
Unidos en Red
Unidos en Red is an international non-profit organization with a dynamic and growing network. Their core mission is to empower agent of social change in Latin America and the Iberian peninsula creating strategic, reliable and efficient partnerships encouraging the collaboration between agents of change; facilitating and promoting the use of technology and communication in order to contribute to social empowering.
Official Website
---
Give to Columbia
Give to Colombia is a non-for-profit whose mission is to increase the flow of international donations and provide enduring, scalable, and sustainable solutions to Colombia's and Latin America's most vulnerable populations. Based in the United States and with offices in Colombia, it creates, promotes, and facilitates alliances between international donors and Colombian grassroot organizations, optimizing the social impact of private and institutional donors' investments in the social sector.
Official Website
---
Miami Children's Health Foundation
Miami Children's Health Foundation was formed to help guide the transformation of Miami Children's Hospital into a nationally ranked pediatric institution. When Ambassador David M. Walters lost his 6-year-old granddaughter Shannon Joy to leukemia in 1970 due to lack of medical resources, the Ambassador vowed no child would ever have to leave South Florida to receive world-class healthcare. Together with doctors, nurses, technicians, staff, volunteers and the surrounding community, Ambassador Walters started Miami Children's Hospital Foundation (MCH Foundation).
Official Website
---
Love Fashion Art
Love Fashion Art's team is deeply involved in the design and creation of each of their products, working directly with their favorite designers and artists to ensure a unique union of their brand's aesthetic and their partners' visions. With these limited-edition pieces designed specifically for the LOVE FASHION ART audience, we are no longer just uncovering the things their clients love most, but now creating them with their sensibility infused. The first LOVE FASHION ART collaboration will launch spring of 2016.
---
Haute Living
Haute Living is a leading network of luxury lifestyle publications, with bimonthly regional editions in New York, Los Angeles, Miami, and San Francisco. Haute Living Magazine provides content that's as sophisticated as our readers. With a strong focus on unstoppable power players and business moguls in addition to curated toys for boys—from private jets, yachts, cars, timepieces, and beyond—the magazine is the definitive guide to life's finer things.
Official Website